Meet Dr. Michael O'Donovan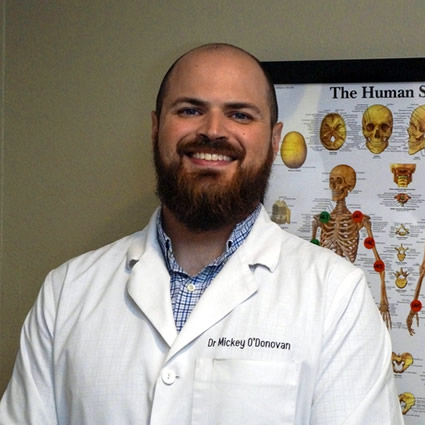 Believing In The Power Of Chiropractic Care
Growing up in Pennsylvania, Dr. Michael "Mickey" O'Donovan had always known that he wanted to pursue a career as a healthcare professional. While pursuing a bachelor's degree in biology at Susquehanna University, he took an interest in physical medicine and rehabilitation, viewing the ability to help a patient recover from injury and heal in the least-invasive way possible (without the use of prescription medication and surgery) as something truly special.
It wasn't until his girlfriend at the time (now wife) Danielle was involved in two separate motor vehicle accidents that Dr. O'Donovan was turned on to chiropractic.
Education and Experience
Dr. O'Donovan chose to attend Palmer College of Chiropractic's Florida campus where he participated in various clubs and intramural sports. He was also elected to the Executive Council for the school's Campus Guide Organization, a group of students who volunteer their time to show prospective students and faculty around the campus and discuss chiropractic's philosophy and role in modern health care.
During his clinical experience at Palmer, Dr. O'Donovan treated a broad array of patients, including seasoned athletes, weekend warriors, infants and everyone in between. Upon graduation, he received Palmer's Clinical Excellence Award, an award presented to an individual who best exemplifies outstanding clinical knowledge and skill, leadership ability and dedication to patient care.
Dr. O'Donovan is a member of the American Chiropractic Association and the Florida Chiropractic Association.
Making a Difference in the Lives of His Patients
"There's a saying that 'if you love what you do, you'll never work a day in your life.' I love what I do!" Each day, Dr. O'Donovan feels humbled and honored to be able to serve the people of Pasco Country, providing them with effective and affordable chiropractic care. He also considers himself beyond blessed to work with such a talented group of individuals.
Since our team here is so tightly knit, we are able to overcome each challenge effectively, all while growing together and supporting each other in the process.
Enjoying Family Life
Dr. O'Donovan prides himself on being a devoted family man and enjoys spending his spare time with his wife Danielle, their bright and beautiful daughter Nora and dog Fozzie. The family enjoys spending time out and about in the community, and taking trips to the beach and the aquarium.
If you're wondering how Dr. O'Donovan can help you feel better, contact us today.

Dr. Mickey O'Donovan | Baywest Health & Rehab