Meet Dr. Morgan Miller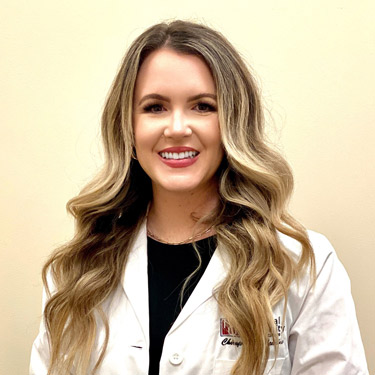 My career choice to be a chiropractic physician began with a passion to offer a holistic approach and serve as a conduit to allopathic medicine. During my youth, my mother became my personal motivation due to her positive experience with holistic practitioners. Her healing and wellness offered me the inspiration to pursue alternative medicine.
This led Dr. Miller to an internship in college with a chiropractic office that opened the doors to her career.
Education and Professional Development
Dr. Miller earned her bachelor's from the University of Louisiana at Lafayette. She then attended the National University of Health Sciences. There, she earned her Doctor of Chiropractic and certification in acupuncture. Dr. Miller completed an acupuncture continuing education course during her clinical rotation.
The Body's Remarkable Ability to Self-Heal
The fact that chiropractic is a form of natural health care that doesn't involve drugs or surgery resonates strongly with Dr. Miller. While conventional medicine takes an outside-in approach to healing, with chiropractic care, the body heals from the inside out. The chiropractic adjustment removes interference in the nervous system, so the body can heal itself.
Finding Fulfillment Helping Patients
For Dr. Miller, it's rewarding to be a voice for patients seeking a healthier and whole life. She finds it particularly fulfilling to see patients who have never received chiropractic care before have a positive experience at Baywest Medical.
Dr. Miller cares for patients of all ages, and is skilled in providing various chiropractic techniques. These include Diversified and Activator Methods®. She will custom-tailor each adjustment to meet the unique needs of her patients.
In Her Spare Time
In Dr. Miller's spare time, she finds relaxation by traveling, improving her golf game and experiencing local cuisine. Her special interests include: continued research, time spent with friends, family and walks with her toy Maltese.
Book an Appointment
Whether you're seeking pain relief or feel great and want to optimize your well-being, Dr. Miller wants to help you. Contact us today to schedule an appointment with her today!

Dr. Morgan Miller | Baywest Medical