New Patients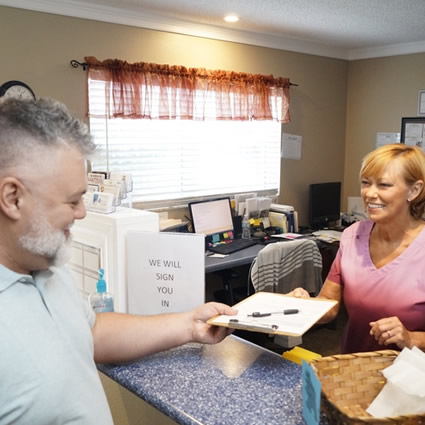 Welcome! Our friendly staff is here to make sure you're comfortable and have all that you need. Regardless of what brought you here, we'll do our best to cater to your needs.
NEW PATIENT PAPERWORK »

Welcomed with a Cup of Joe & a Cookie
Enjoy a fresh-brewed aromatic cup of coffee when you first come into our office or savor a freshly baked cookie from our very own cookie oven. We make them throughout the day right in our front office! Our paperwork is available for you to download, print and fill out in the convenience of your home.
You can expect to be seen promptly, where we'll do a "listening consultation" in which we're all ears. We want to know exactly what brought you in and what your goals are so we can focus on providing you just that.
Next, we'll do a full neurological and orthopedic examination and X-rays if necessary. If appropriate, we'll begin treatment that day. Please plan to spend an hour with us on your first visit.
Follow-up Visits
When you arrive, we'll ask where you are on the pain scale and where you'd like to go. We'll tailor care to your exact needs, always keeping your best interest in mind.
A typical visit will entail your adjustment and any therapies that will enhance your healing. These visits can last anywhere from 15 minutes to one half hour, depending on your care needs. Visit us as often as you'd like. We leave the frequency of your visits up to you!
Everyone in this office is amazing. Great attitudes and they take you and your kids in with no worries. A great place for rehab.

I really liked my first visit. I am impressed with how organized the office is and everyone is friendly and very attentive to the patient. My first treatment was very impressive and assuring I'm in the right place. Looking forward to getting to know staff better and getting healthy.

I had no idea what to expect for my first visit Dr. Scott put me at ease. My back and neck was very sore. After the adjustment on my back and neck I felt pain free.

A very nice group of professionals. They cracked me up!

I have never been to a facility like this. The service is outstanding. The doctors and staff have helped me a lot and I feel much better. I feel very lucky that I found this place.

Baywest Health & Rehab is part of my heart. You are family to me. You are a wonderful staff and I love you all!

We are very satisfied with all the girls they do a great job. And they make you feel at home. The doctor is sincere and helpful. We feel much better now than when we started.

Can't wait for my next appointment!

Dr. Scott is the most considerate and mindful Dr. I have ever had the pleasure of seeing. I believe his true concern for his patients well being and the extra care he gives is outstanding and most commendable… this alone should be a reason to make Baywest Health & Rehab your ONLY Chiro and Rehab choice.

Very pleased with my first office visit today. Confident I will be feeling better soon.

I was amazed how much better I felt after my 2nd. visit. Never dreamed I could feel this much better in such a short time. Thank you! Thank you!
Join Our Practice
We'd love to welcome you as a new patient. Appointments are available but not necessary and we'll do all that we can to make your experience here comfortable.
If you're ready to see how our team can help, stop in and see us or contact us today. Our staff can't wait to meet you!
CONTACT US »

New Patients | Baywest Health & Rehab