New Patients at Baywest Medical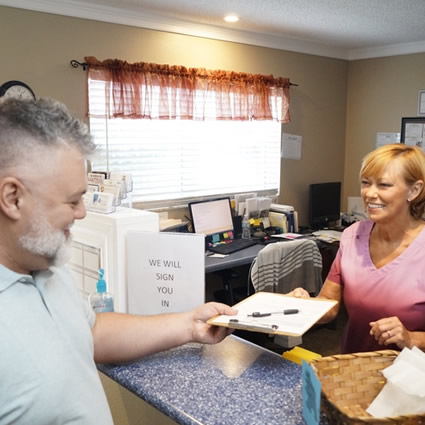 Welcome! Our friendly staff is here to make sure you're comfortable and have all that you need. Regardless of what brought you here, we'll do our best to cater to your needs.
Welcomed with a Cup of Joe & a Cookie
Enjoy a fresh-brewed aromatic cup of coffee when you first come into our office or savor a freshly baked cookie from our very own cookie oven. We make them throughout the day right in our front office! Our paperwork is available for you to download, print and fill out in the convenience of your home.
You can expect to be seen promptly, where we'll do a "listening consultation" in which we're all ears. We want to know exactly what brought you in and what your goals are so we can focus on providing you just that.
Next, we'll do a full neurological and orthopedic examination and X-rays if necessary. If appropriate, we'll begin treatment that day. Please plan to spend an hour with us on your first visit.
Follow-up Visits
When you arrive, we'll ask where you are on the pain scale and where you'd like to go. We'll tailor care to your exact needs, always keeping your best interest in mind.
A typical visit will entail your adjustment and any therapies that will enhance your healing. These visits can last anywhere from 15 minutes to one half hour, depending on your care needs. Visit us as often as you'd like. We leave the frequency of your visits up to you!
Join Our Practice
We'd love to welcome you as a new patient. Appointments are available but not necessary and we'll do all that we can to make your experience here comfortable.
If you're ready to see how our team can help, stop in and see us or contact us today. Our staff can't wait to meet you!
CONTACT US »

New Patients at Baywest Medical | Baywest Medical