Our Services
Baywest Medical Offers Personalized Care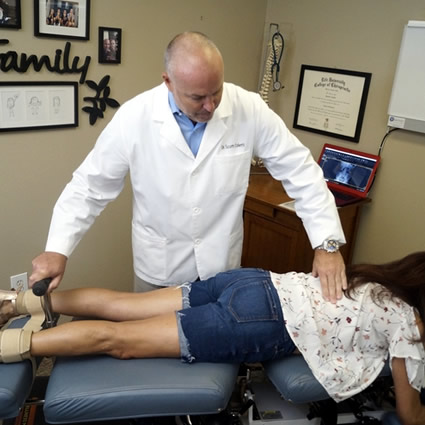 Whether you've been in an auto accident or had an injury, we're dedicated to helping you achieve the health you want.
We'll tailor our services to meet your needs and guide and support you as you reach your greatest potential.
Our team consists of four full-time licensed chiropractic assistants, massage therapists and a state-certified athletic trainer here to help with any additional services you may be interested in.
Many of our rehabilitation therapies are offered at no additional cost, and you can feel better, faster.
Chiropractic Care – We use Diversified full spinal adjustments, Cox Flexion-Distraction and Activator Methods® adjusting techniques.
Neuropathy Treatment – We provide a long-term solution to your neuropathy through our 4 stage process that helps your body repair itself.
Cold Laser Therapy – Break down scar tissue, heal properly and regain the health and normal function of your extremity issues. From knee pain to shoulder problems, our powerful yet gentle cold laser can help you rebuild and restore your health.
Acoustic Wave Therapy- Or AWT is a type of technology that was developed in the '90s to stimulate blood flow and relax muscles in athletes. This innovative therapy has been used for decades to address a wide range of sports injuries as well as various musculoskeletal conditions. We are pleased to be offering acoustic wave therapy at our Largo location.
Physiotherapy- We're proud to offer physiotherapy sessions in the practice, complete with focused exercises and stretching as well as advanced laser therapy for effective, gentle and natural healing.
Manipuflex™?- As another way to help patients experience pain relief and enhanced function, Dr. Coletti devised the highly safe, effective and popular Manipuflex maneuver, a modified form of a technique employed by Dr. Gregory Johnson, a Houston-based chiropractor.
Auto Accident Care- When you're in an auto accident, the accident causes acute trauma to your body. While many people are familiar with whiplash, some don't realize trauma can occur in the neck, shoulders, knees and elbows.
Primary Care Provider- Patients of all ages, from young children to seniors, can receive an array of convenient, high-quality services provided by our nurse practitioner.
Intersegmental Traction – We gently add motion to each vertebral joint to increase circulation, reduce scar tissue and enhance the effectiveness of your adjustments.
Manipulation under Anesthesia – Once a month, we provide Manipulation under Anesthesia (MUA) for those interested. Selected patients who suffer from chronic spinal conditions or longstanding scar tissue may be good candidates for MUA. If you've been in an accident and have a letter of protection or lien, this service may be covered for you as it is generally not covered by insurance.
Spinal Decompression – Our specially-equipped table will ever-so-slowly stretch your spine. And then relax it. Stretch. And relax. Excellent for disc cases.
Nerve Conduction Testing – We offer Nerve Conduction Testing (NCT) to examine your nerves for injuries. This test will help us determine the severity of your problems on a nerve level.
Nice staff and office, exudes confidence and caring, feels like home.

Baywest Medical was the fourth different chiropractor I have utilized.. without a doubt, they have been the best by a large margin. Dr O'Donovan provided me with the most thorough examination and treatment I ever received.

They did a great job getting my back to reset!

I had no idea what to expect for my first visit Dr. Scott put me at ease. My back and neck was very sore. After the adjustment on my back and neck I felt pain free.

Great company, excellent service and staff!

I was amazed how much better I felt after my 2nd. visit. Never dreamed I could feel this much better in such a short time. Thank you! Thank you!

Awesome treatment! I felt so good during, and had almost immediate relief.

Thank you for addressing my concerns – respectfully – and I would like to compliment everyone for being SO nice!!

I literally had the best neck adjustment I have had in years…I am so grateful!

Dr. Donovan is amazing. I came in hurting and felt fantastic afterwards. Highly recommend you guys!

Very pleased with my first office visit today. Confident I will be feeling better soon.

Great folks and very helpful!

Keep doing what you're doing. Excellent care and concern for each individual case.
Get Started Today
To begin care and get back to the life you love, stop in and visit us or call today. Our team is here to cater to your needs. Contact Baywest Medical to get started!
CONTACT US »

Baywest Medical Services