Chiropractic Care & Rehab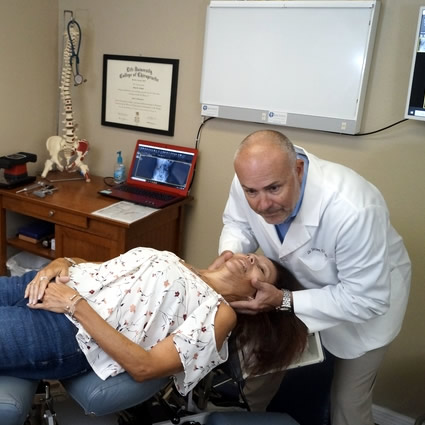 With the conventional medical model, prescription drugs that mask symptoms are used. Chiropractic care is a conservative, noninvasive approach to pain relief that also gets to the root cause.
A lot of the aches and pains that we all deal with daily are due to inflammation. A chiropractor can identify the origin of these symptoms and develop a treatment course to reduce inflammation in the given area. When there's a reduction in pain, patients can feel better and get back to the things in life they love.
NEW PATIENTS

What Are Some Benefits of Chiropractic?
Regular chiropractic care has many benefits, including decreasing pain and increasing range of motion/flexibility. Whether you sit at your desk for 8 hours a day for work, play a round of golf, hit the gym daily or do weekend yardwork, you've likely experienced joint pain.
With regular chiropractic care, you can have less pain, greater mobility and a higher quality of life.
Our Techniques & Services
Chiropractic Adjustments: We employ multiple techniques to manually decrease inflammation and increase the range of motion on a joint-by-joint basis. Methods include manual approaches like Diversified and instrument-assisted ones such as Activator Methods®.
Cold Laser Therapy: This therapy is a thoroughly-researched and highly-scientific form of noninvasive pain relief. Cold laser therapy can decrease inflammation and accelerate the healing process of a damaged/painful area of the body.
Physiotherapy: This form of treatment deals with stretching, stabilizing and strengthening the connective tissue in an injured area of the body. Physiotherapy is essential for our patients who have sustained traumatic injuries from motor vehicle accidents, for example.
At Baywest Medical, we take a patient-centric approach to care, delivering chiropractic that's always tailored to each patient's particular condition.
We want to meet the goals of anyone who walks through our door. Here are our three types of care:
Relief: When you're in pain, you want relief and you want it quickly. With this type of care, we pinpoint the source of inflammation and reduce the pain as fast as possible.
Relief and Rehab: Perhaps you were involved in a fender bender, high-speed collision or a workplace injury. If so, you will usually require more intensive therapy and will be placed in our relief and rehabilitation model. This approach aims to not only address the pain but also get patients back to functioning like they were before their trauma.
Maintenance: Just as you take your car in for oil changes at regular intervals to keep it running at its peak, consider "tuning up" your spine with maintenance care. Some of our patients come in not because they're in pain, but because they know the value of keeping their spine healthy through maintenance adjustments.
Here are some of the issues that we can effectively address at our clinic:
Back and neck pain
Intervertebral disc injuries (bulges, herniations, etc.)
Joint pain
Radiculopathies/sciatica
Sports injuries
Get Started Today
Whether you're seeking quick pain relief, require intensive therapy or just want to feel great, our chiropractic care can help you achieve your goals. Contact our New Port Richey or Largo chiropractic office now to book an appointment!
CONTACT US

Chiropractic Care & Rehab | Baywest Medical