Physiotherapy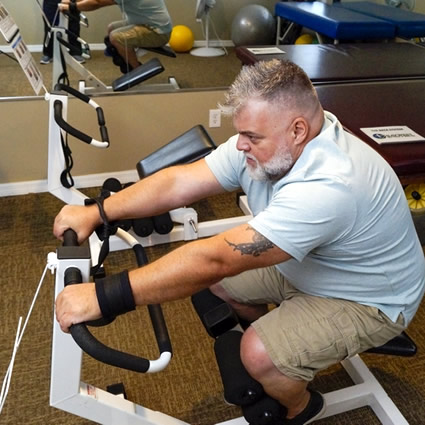 At our practice, we believe in offering a variety of solutions to patients that can help them achieve their best health yet, whether it's getting back to doing what they love after an injury or simply wanting to feel their best.
We're proud to offer physiotherapy sessions in the practice, complete with focused exercises and stretching as well as advanced laser therapy for effective, gentle and natural healing.
Who We Help
Our sessions are built around your unique needs, with care for each person looking different from the next because we believe in giving your body exactly what it needs for continued healing and prosperity. You're welcome to see us as frequently or as little as you'd like-you're always an active partner in your care, we'll simply make the best recommendations for you.
We often help individuals with injuries including:
Car accidents: We'll work with your insurance on your behalf to make sure you get the proper care you need after an accident. We'll develop a custom care plan for you that may include stretches, exercises and laser treatment.
Personal injuries and chronic pain: If you're already seeing us for chiropractic care, adding physical therapy sessions into your therapy may help get you to the next level.
Athletic injuries: Athletes of all skill level are welcome in our practice!
We're happy to offer patients care with our advanced laser system, that can penetrate deep within your problem areas to help stimulate healing and potentially get you off of pain medications.
We recently worked with a patient who was having knee pain and had tried stem cell injections to no avail. After just one session with our laser, her pain level had decreased significantly, as well as her swelling.
How often will I need to visit you for care?

Some patients come in to see us for sessions a few times a week, while others come every other week or beyond. It's really up to what you hope to get out of your physical therapy sessions. We can recommend the best care plan for you based on your goals, and you can decide if that works for you.
How soon will I start feeling better?

Because each person is different, it's hard to say exactly how many sessions you might need before you feel an improvement. We promise to do all that we can to make sure you're progressing as quickly and effectively as possible.
Will I need to come to physiotherapy forever?

Our goal is to get you feeling better so that you don't need to continue coming to us. We want to help you strengthen weak muscles and improve flexibility as well as range of motion so that the risk for reinjury is low.
Does laser therapy hurt?

No! That's one of the things that patients love most about undergoing laser therapy with us-there's absolutely no pain during the process. The laser only takes a few minutes to complete, making it not only effective but efficient for healing.
Can I do any work at home?

Absolutely. We'll provide you with exercises and stretches that you can do in your own home or gym, so that ultimately, you can strengthen your weakened areas outside of visiting us. This is the ultimate goal so that you don't need to keep coming in for sessions.
Schedule Your Visit
We're thrilled to now be offering appointments for Physiotherapy in our new Largo office. If you'd like to get started today, contact us to book a visit. We can't wait to help you achieve your goals in health, naturally.
CONTACT US

Physiotherapy New Port Richey, Largo FL | Baywest Medical