Peripheral Neuropathy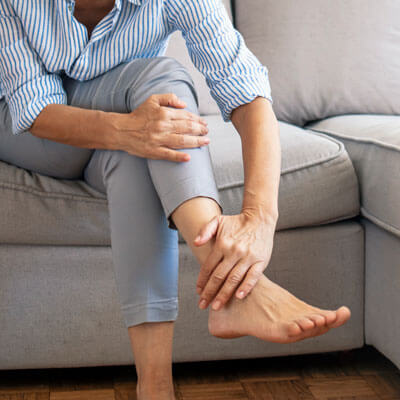 Numbness, tingling, burning sensations, balance issues from your feet. These common symptoms of neuropathy can greatly diminish a person's quality of life. Perhaps you've gone the medical route to get neuropathy relief, and have been told by your physician that "you'll have to live with it." Or you may have been given injections, but discovered that those were just bandage solutions.
Offering a Natural & Effective Solution
At Baywest Medical, we are pleased to offer effective and long-lasting neuropathy care at our Largo location. Our approach is different, as we're seeking to address the root cause. The various medications on the market given for neuropathy merely manage the symptoms, rather than actually looking to cure the neuropathy.
After you book your appointment online, here's what's involved:
The First Appointment
When you come into the practice, we'll take you to a room and watch a 40-minute video that goes over what peripheral neuropathy is, what the effects are, and how Baywest Medical can address neuropathy.
Examination
Next, one of our practitioners will perform a comprehensive examination and speak to you about your condition. Based on the exam results, they'll determine how severe your neuropathy is, and whether you're a candidate for our protocols.
The Second Appointment
We'll have you come back the next day and watch another short video about 15 minutes long. Then your doctor will review everything with you and let you know what your treatment plan will entail.
Stage 1: Anodyne infrared therapy
Anodyne therapy was the first infrared light therapy product cleared by the FDA (1994), and it remains the premier evidence-based light therapy product on the market today. This treatment will be applied to wherever your neuropathy is. This helps improve the blood flow through the area and oxygen, which can allow the body to heal itself.
Stage 2: Re-educating the nerves
We use the ReBuilder system to rebuild and calm the nerves while increasing blood flow to the affected areas which allows the nerve cells to heal, hence turning the chronic degeneration process around.
Stage 3: Nutritional support
We will provide proper nutrition guidelines to help the body function better, which will aid the healing process. Nitric oxides help circulation, which is essential for proper feeding and healing of nerves.
Unfortunately, our foods do the opposite and diminish this. This is where the at-home treatment is so vital. Our specific peripheral neuropathy nutritional program is designed to improve nitric oxide within the body.
Stage 4: In-clinic protocols
While much of the protocols are done in the comfort of your home, we will need to see you from time to time. It's necessary to examine you, ensure you are on target, and to make any adjustments.

Treatment time depends on how long you've been experiencing neuropathy and the level of sensory loss you have. The duration of your treatment will be determined at the time of examination. Most of our neuropathy patients will be on a 90-day program. Maximum medical improvement could be as long as 12-15 months in some cases.
Will some of my treatment take place at home?

Most of it will. In fact, 90% of the treatment will be done in the comfort of each patient's home, rather than coming in for treatments several times a week.
Will you work with my other healthcare providers?

Yes. We do so, as it's crucial that every provider knows your goals, treatment and outcome.
Does insurance cover neuropathy treatment?

Insurance typically pays for acute problems, not chronic ones, which neuropathy falls under.
Do you offer financing?

Yes, Baywest Medical offers several financing options. We want to make our treatment accessible to help patients get their freedom back, so they can do all the things in life they love.
Book an Appointment
Take that first step toward getting the neuropathy relief you need. Schedule an appointment today at our neuropathy center!
Peripheral Neuropathy New Port Richey, Largo FL | Baywest Medical